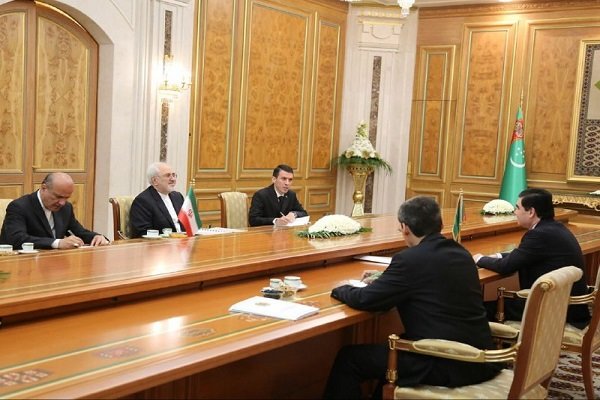 Iranian Foreign Minister Mohammad Javad Zarif made the remarks in a meeting with Turkmenistan President Gurbanguly Berdimuhamedow in Ashgabat on Monday. The visit to Turkmenistan comes at the invitation of Turkmen Foreign Minister Rashid Meredov and within the framework of a 3-nation tour that will be followed by visits to Georgia and Kyrgyzstan.
During the meeting with President Berdimuhamedow, the two sides conferred on expansion of bilateral ties and current developments in the region.
"The two countries have for years maintained such good relations in the political, economic and cultural fields and bilateral talks have always proved to be fruitful," President Berdimuhamedow said.
He also asked Zarif to extend his special greetings to President Hassan Rouhani and Ayatollah Ali Khamenei.
The meeting also comes on the occasion of the 25th anniversary of Iran-Turkmenistan diplomatic ties.
On this one-day visit, Foreign Minister Zarif is also scheduled to hold talks with his Turkmen counterpart Rashid Meredov and take part in the opening ceremony of the two countries' trade conference. 
MS/IRN82495585
Source: Mehrnews English