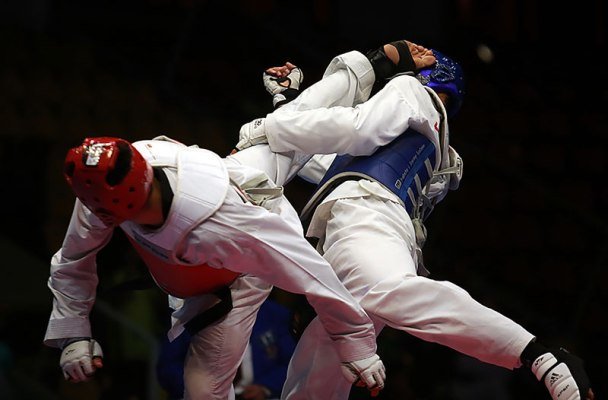 The international taekwondo championships dubbed Fajr Open kicked off on Sunday in northern Iranian city of Sari with presence on 20 teams from Iran, Afghanistan, Pakistan, Russia, Iraq, Luxemburg, Syria, Seychelles, Oman, Greece, Azerbaijan, India and Armenia.
The contests in three weight categories were held on the opening day of the two-day event with Shahrdari Sari team of Iran winning three gold medals.
At -54kg weight group, Arash Tabrizi overcame Afghanistan's Mohsen Rezaei 6-5 in the final debut to secure a gold medal. The Afghan representative bagged silver while his compatriot Sina Afzali and Azerbaijan's Ilham Aliev jointly stood on the third podium.
Erfan Heidari brought home Shahrdari Sari's second title after quelling Mohammad Fahim of Pakistan 23-10 in the finals of -74-kilogram wright division. The bronze medal was jointly awarded to Mohammad Jabar Rashid and Mostafa Naser Hossein of Iraq.
The third gold medal of Shahrdari Sari was snatched by Siavash Fakhraei who stood on top of the podium in +87kg weight category. Fakhraei was followed by his compatriot Mohammad Reza Inanlu who secured a silver medal as well as Iraq' Visam Sattar and Mohammad Karim Hossein who jointly landed in the third place.
Competitions for -58, -63, -68, -74, -80 and -87 weight groups will be competed today in Sari venue.
HA/3954719
Source: Mehrnews English