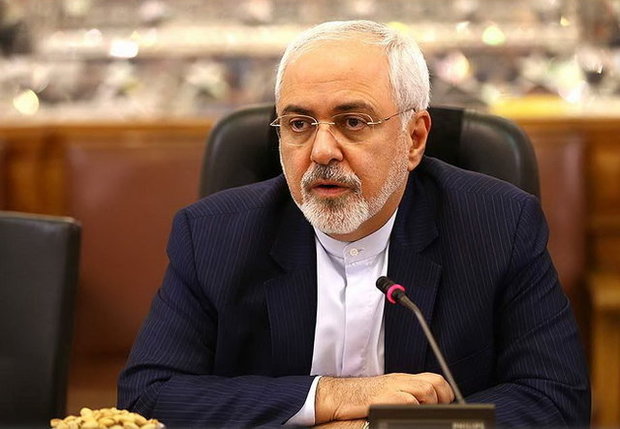 At the joint meeting, Minister for Foreign Affairs of Kyrgyzstan Erlan Abdyldaev deemed it as necessary for Tehran and Bishkek to bolster relations in various fields.
Speaking at a joint press conference following the meeting, Iran's Zarif said he was pleased about his presence in the beautiful city of Bishkek on the 25th anniversary of diplomatic relation between the two countries; "I am accompanied by a top-ranking economic delegation in order to pursue venues for long-term bilateral relations in political, international, regional, economic, trade and cultural fields."
He further pointed to his meeting with the Kyrgyz president saying "Mr. Atambayev holds strong determination for boosting relations; the same view is held by the Iranian side since Iran and Kyrgyzstan hold age-old religious, cultural and geographical ties."
The official said agreements had been reached for exchange of delegations during the upcoming visit of Speaker of Kyrgyzstan's parliament Chynybai Tursunbekov to Tehran.
"The two sides agreed to hold regular sessions over regional issues like extremism, terrorism and drugs," noted Zarif adding "economic cooperation between Tehran and Bishkek also needs to become strengthened as suggested by Kyrgyz FM Erlan Abdyldaev."
The official touched upon the agreement reached in transport sector explaining that railways of China, Kyrgyzstan, Turkmenistan and Iran will be supported. An accord was also hit in banking collaborations in order to facilitate bilateral trade.
Mohammad Javad Zarif underlined that Iranian companies and institutions will take part in infrastructure projects of Kyrgyzstan like construction of power plants, roads as well as factories.
Iranian foreign minister said state and private sectors of the two sides agreed to launch cooperation in the field of advanced technologies as well as to lift export and import volumes.
"Other agreements pertained to food and pharmaceutical industries," stressed the official adding "the 25-year-old relations offer proper grounds for further deepening bilateral ties which will, in turn, bring about peace and stability to the two countries, region and the world."
Also at the conference, Minister for Foreign Affairs of Kyrgyzstan Erlan Abdyldaev, said Iran was among the first countries to recognize independence of Kyrgyzstan and relations between the two sides have followed an upward trend.
He said delegations will be exchanged between Tehran and Bishkek in a bid to boost parliamentary ties as well as that Speaker of Kyrgyzstan's parliament Chynybai Tursunbekov will soon make a visit to Iran.
Abdyldaev noted that Iran and Kyrgyzstan enjoyed huge economic and historical capacities as they are collaborating in tourism and trade arenas.
The official later voiced his country's readiness to conduct joint venture with Iran is various fields like transport, industry, energy, science, technology and food industry.
He believed that the Joint Economic Commission between the two states could pave the path for expansion of relations.
The Kyrgyz FM pointed to the long-term plan of cooperation between Iran and Kyrgyzstan until 2016 expressing confidence that the project would mark a leap in Tehran-Bishkek relations.
Erlan Abdyldaev, while pointing to his country's position in the Eurasian Economic Union, said "convergence with the Union could offer new possibilities in areas like agriculture and food to Iranian companies as well as that Kyrgyzstan is ready to deploy goods to Iran."
Later, the official underlined the significance of maintaining security and stability in Central Asia stating that due attention was paid to regional issues during today's meeting and the two sides voiced readiness to begin bilateral and multilateral cooperation in the fight against international and regional terrorism as well as confrontation against drugs.
Abdyldaev enumerated other axes of talks and the agreements reached at the meeting with his Iranian counterpart like tourism, facilitation of visa issuance, activity of Iran's private sector in Kyrgyzstan, launch of direct flight routes, banking relations, agriculture, mines as well as power plant building.
He went on to criticize the low volume of trade turnover between the two countries despite great capacities and recalled that 16 cooperation documents had been signed at meeting of Iranian and Kyrgyz presidents as well as that 11 sessions of Joint Economic Commission had been held.
The Kyrgyz foreign minister noted that the 12th meeting of Tehran-Bishkek Joint Economic Mission will be hosted by Iran in the year to come.
Prior to the meeting with his counterpart, FM Zarif had also met with the Kyrgyz President Almazbek Atambayev.
Zarif is on a tour to Central Asia on the occasion of the 25th anniversary of independence of three former Soviet republics including Turkmenistan, Georgia and Kyrgyzstan.
HA/IRN82498393
Source: Mehrnews English