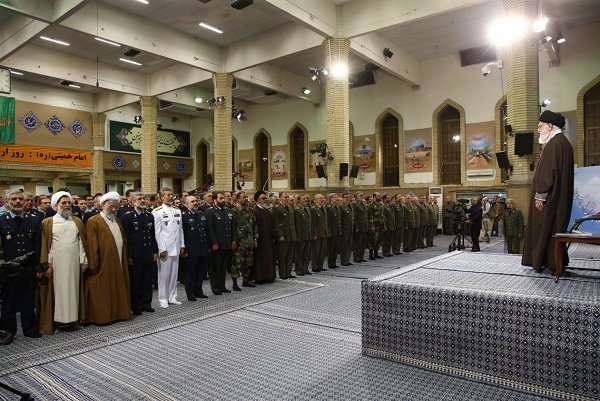 Leader of the Islamic Revolution Ayatollah Ali Khamenei received on Wednesday a number of Army commanders and personnel on the occasion of the country's National Army Day.  
During the meeting, he underscored the necessity of a secure and powerful voting process in the upcoming presidential election on May 19, and warned against the nation's enemies that always seek to cause disturbances.
"Those who follow western media see how the enemies are trying to disrupt the elections in some way, but the Iranian nation will remain vigilant and wise to these hostile moves and the election will hopefully be held with a high turnout in a secure, passionate and lively atmosphere," he said.
The Leader further stressed that an election held with such parameters in mind will bring great immunity to the country. 
Ayatollah Khamenei then touched upon the significance of economic growth and his continued emphasis on economy in the past three years, adding "the reason why I keep highlighting the importance of economic development is because I have sensed that the enemy is trying to strike a blow against our country from this angle."
"Today, the economic capacity is a key priority in the country," he stressed, adding "if officials take heed of enemies' motives, they will gain more motivation to make efforts for people's livelihoods."
To be updated…
MS/3957032
Source: Mehrnews English